Podcast: Dr. Christopher Loo Speaks on Going Where There is No Path, and Leaving a Trail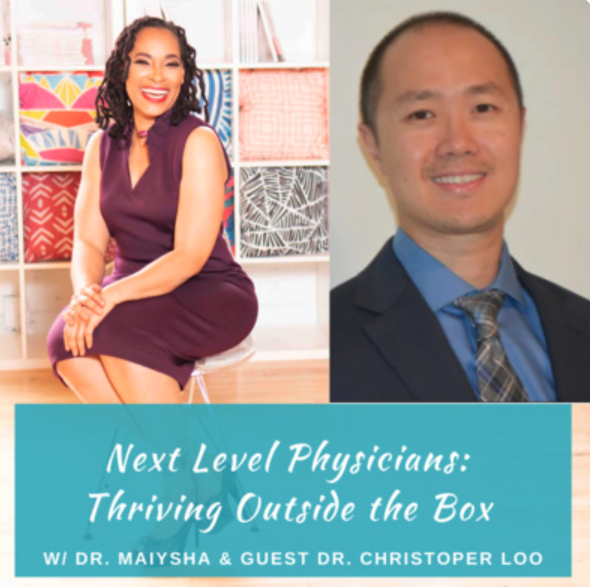 Artist Name
-
Dr. Christopher Loo Speaks on Going Where There is No Path, and Leaving a Trail.mp3
This week next level physician entrepreneur Dr. Chris Loo and I took the conversation to another level as we conversed about "Going where there is no path, and leaving a trail".
Highlights from the conversation:
· Dr. Loo talks about being different as a child and how that usually led to him feeling awkward. However later in his life, being different turned out to be a good thing
· Sometimes being different is a positive, and we must leverage the possibilities that come with that.
· Think outside of the box while everyone else is doing the ordinary thing
· Having an entrepreneur mindset early on helped him to become financially free early in life
· It's never too late to make that switch to something you truly feel called to and passionate about.
One has to discover what's important to them and what are their true values to find the path that best fits them. Dr. Loo has had MANY entrepreneurial ventures: he has coached doctors to become financially free using investing, and now is coaching physicians in finding their true values and passion,
Check out and connect with Dr. Loo and see all of the amazing things he is doing:
Christopher H. Loo, MD-PhD Physician Entrepreneur | Investor | Consultant | Author | Executive Coach | Keynote Speaker | Advisor
Email: This email address is being protected from spambots. You need JavaScript enabled to view it.
TW: @drchrisloomdphd
Amazon Author CentralAirBNB Host ListingsLinkedIn
Books:-How I Quit My Lucrative Medical Career and Achieved Financial Freedom Using Real Estate, The Physician's Guide to Achieving Financial Freedom Using Stocks & Options, The Physician's Guide to Financial Freedom: Getting Started as a Consultant and The Physician's Guide to Financial Freedom: Becoming a Freelance WriterInterviews and Speeches:-Podcast interview on the Gifted Professional Speakers (GPS) Program-Podcast interview on the PNC (Physician Non-Clinical Careers) Podcast with Dr. John Jurica, MD (9-17-19)-Podcast interview with Dr. Rafael Rolon (9-30-19)-Podcast interview with Dr. Michael Woo Ming (11-9-19)-Speaker & Mentor SEAK Non-Clinical Careers Physician's National Conference 2018-Terry Foundation Alumni-2019 Education For Tomorrow Alliance (ETA) SpeakerSee you on the next one!Hosted by: Dr. Maiysha ClairborneLooking for a Coach or Mastermind to Join? Ready to Take Your Career, Business, and Life to the Next Level? If you want to Learn more about Dr. Maiysha's coaching, courses, and masterminds. Visit www.DrMaiysha.com. Choose from of our Free Mini Online Masterclasses on Mindset Mastery, Manifestation, and Next Level Entrepreneurship Right on the Home page to start your journey now.
Stay Informed
When you subscribe to the blog, we will send you an e-mail when there are new updates on the site so you wouldn't miss them.
Comments
No comments made yet. Be the first to submit a comment