The 5 Types of People You Need in Your Life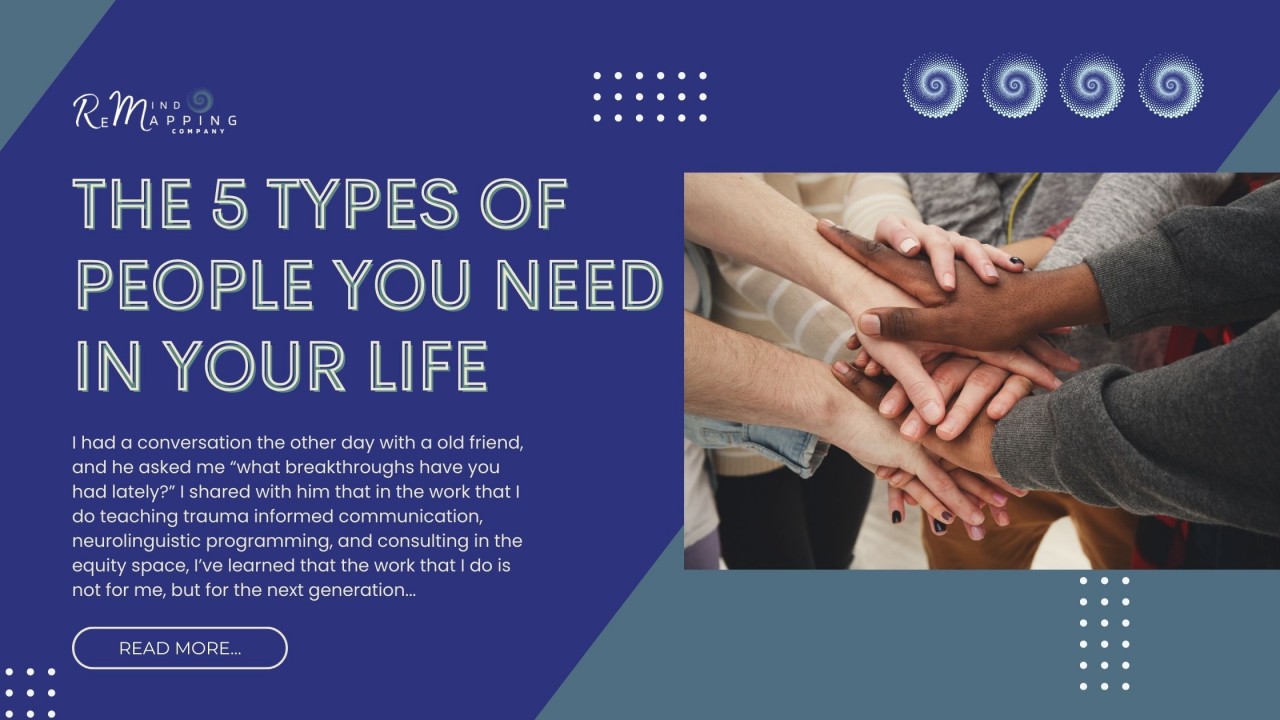 I had a conversation the other day with an old friend, and he asked me "What breakthroughs have you had lately?" I shared with him that in the work that I do teaching trauma-informed communication, neurolinguistic programming, and consulting in the equity space, I've learned that the work that I do is not for me, but for the next generation. Since that conversation, I've reflected a bit more on how I got to where I am. In my third career, continuing to grow in my purpose and expand my impact in this world. As I contemplated, I was reminded of another conversation I had with a colleague who shared with me that there are five types of people we need in our lives to maximize our growth and development. Mentors, Mentees, Equals, Support People, and Beneficiaries.
Mentors
First, we need a mentor. It is important to have some people in our lives who push us beyond our comfort zone. Those who would provide us guidance, and advice and gives us the right feedback to adjust and have room for growth as we take our chosen path. They are those who challenge us to keep striving for the best. Those who show us that the place that we want to get to is possible while keeping us accountable for our actions. Mentors can be coaches, teachers, or people who have been where you are and have moved to the level you want to be. They may be paid or unpaid. I've had mentors in all of these categories, and the common thing is that they see your potential and push you past what you think is possible, empower you, and serve as wise counsel all in service of your ultimate success and agenda.
Mentees
While having a mentor on your side it is also important to have a mentee. People whom you exercise your ability to support and coach. I think that when you have mentees, as you teach, you strengthen the knowledge you have within yourself which makes you more confident. Mentoring can be something you get paid to do, and mentoring as an act of service brings even more value when it's done. It gives you a sense of value and contribution that you are paying forward what has been not only taught to you, but what you have experienced yourself. And in mentoring, I often find that learning goes both ways. While you are mentoring, you are benefiting by reinforcing your knowledge and improving your communication and leadership capacity.
Equals on the Same Journey
On this career journey, we also need people who are our equals. Our equals are our colleagues, our accountability partners, our "siblings" who are on the same journey. A quote from Richard Branson says "Colleagues should take care of each other, have fun, celebrate success, learn by failure, and look for reasons to praise not to criticize, communicate freely and respect each other." Colleagues are those with whom we share the same experiences and sentiments... with whom we share the same knowledge and have the ability to challenge each other to grow and perform better and become stronger as professionals. Being an entrepreneur, I have found, can be a lonely journey without an accountability partner. I most certainly would not be where I am without them.
Support person / Committed Listener
It has been said that not every day is a sunny day. There were times when we have to undergo some difficulties and allow ourselves to simply lean and be comforted. During these times, it is we need support people. These people can be from a different industry or in some cases they have nothing to do with what we're doing. They are typically our committed listeners. These are people who will listen to us, comfort us, and give us space to experience hardships in the way we need without trying to fix it. They may be our family, friends, or sometimes close colleagues or coaches who may or may not be on the same journey. These support people often also serve as your cheerleaders. They remind you of who you are. They remind you that you are not alone. The key factor is that our support people are our "safe spaces". They are the people you feel most at home with in any state. They are great listeners, and they know how to balance listening, encouragement and empowerment. I recommend having at least 2-3 of these people in your life. As high functioning people, it can be hard to lean, and we must not go at this journey alone.
Beneficiary
Finally, The last category on the list is the beneficiary. This type of person really speaks to doing something meaningful. They can be those to whom we give our service like patients, clients, the industry, and the consumers that we're serving. They somehow give us a sense of meaning and purpose as we do our best in what we do because we know we are touching and taking good care of someone's life. These people allow us to grow even more and be more creative in whatever things we do to produce great service for their expanding needs. And there, we would be able to feel satisfaction and success because we know we are not only living for our own but others.
In conclusion
We need a balance between all of these people in our lives. Having too much or too little of these people in our lives can create imbalance in our growth and in our experience of the journey to success. All of these roles have an important contribution to our growth. We need mentors to guide us, colleagues to work with us, support people to lean on and cheer us up, mentees to who we partake our knowledge, and beneficiaries to render our services. It's useful to know that there can be some crossover, and one person may serve as multiple roles, however, it's important to have multiple people that serve in these roles so no one person bears the weight of having to be everything. I often tell the students in our NLP trainings that when we intentionally put these people in our lives, what we are doing is setting ourselves up for a balanced journey toward whatever future we are creating. Where do you notice that you are not balanced in the these areas? How do you plan to incorporate the people you need but don't have? Comment and let us know.
Join our NLP community. Learn more about our next NLP training. Expand your listening capacity, learn trauma informed communication, help your children, clients, or loved ones navigate challenges with ease. Go to www.mindremappingacadmey.com to learn more about our trainings or visit www.remapmymind.today To Schedule a NLP Training interest Today.
Stay Informed
When you subscribe to the blog, we will send you an e-mail when there are new updates on the site so you wouldn't miss them.
Comments
No comments made yet. Be the first to submit a comment