Emotions are an Unconscious Phenomenon but that Doesn't Mean We Cannot be Conscious About Them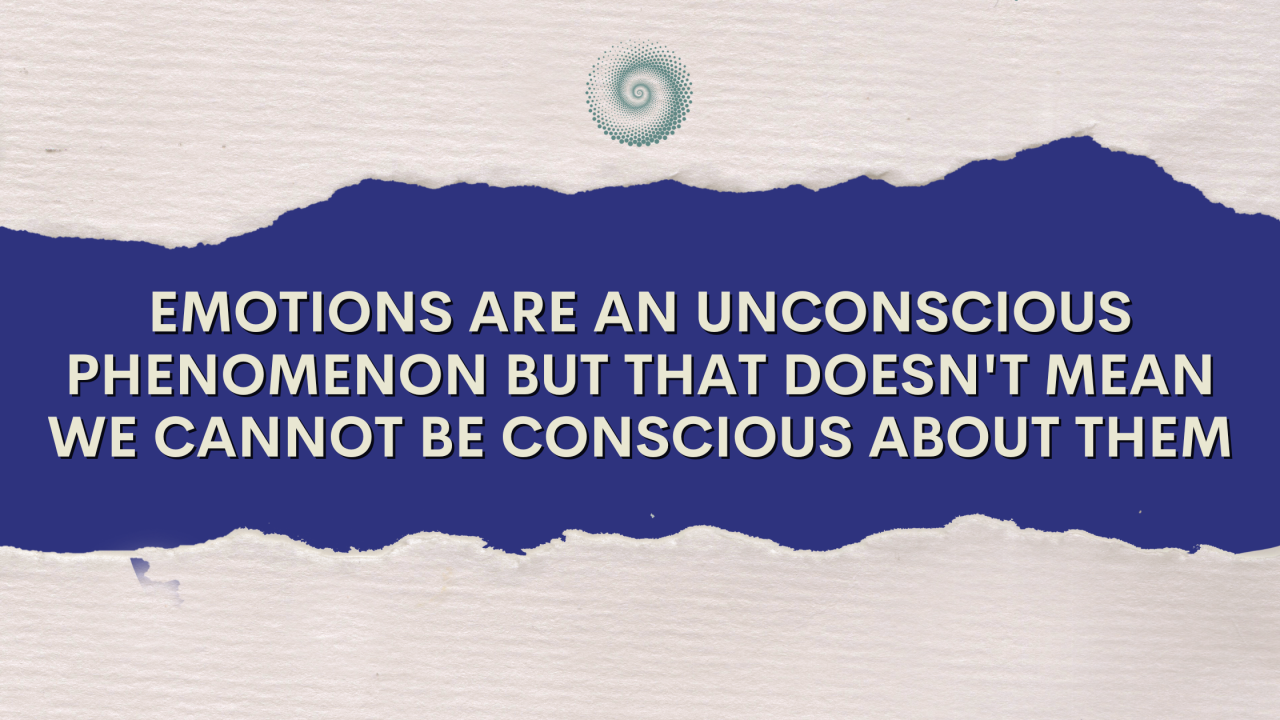 Did you know that emotion is an unconscious mind phenomenon? We may have heard of people around us telling us to control our emotions even in situations where we feel like bursting out. Today's discussion would be focusing on how we can begin to consciously control how we react even in the face of the unconscious feelings that we feel.
The unconscious mind is in the domain of the emotions
Our unconscious mind is always feeling something. It is said to be responsible for organizing our memories but it can also repress our memories and emotions at the same time. We can be conscious of our emotions though they are organized and kept in our subconscious. The idea that we can control the emotions that come up within us is what gives us the whole cruel type of thing. Because emotions arise from the unconscious mind but are felt consciously.
The compartmentalization of our emotions
We might have heard of some people who came to a point in life where they cannot even recognize how they feel. Interestingly, when we disconnect ourselves from our unconscious self we also disconnect ourselves from our own emotions. For some reason, most of us compartmentalize our emotions as a defense mechanism for us to be able to cope with certain events in our lives that are frustrating or so. And we can be so good at this consciously that we could end up losing access to the feeling of it.
The unconscious mind will repress emotion for survival's sake
There are events in life where we got to face discomfort. And since our unconscious mind is designed to protect us from harm it represses our emotions for survival's sake. And it takes place on a short-term period. But the problem is it becomes unhealthy in the long run.
Correspondingly, it is reasonable for us to know that medical professionals are disciplined to push down and interrupt their normal expressions for their job demands it. They are in a field where they handle challenging circumstances every day. As a result of this, their emotions will eventually overflow and burst out. Which affects not only the person himself but also the people around him. These things are said to be like trying to continue to fill in a trashcan without ever stopping to empty it.
We must be aware of how we direct our emotions. We are to be mindful of the emotions we suppress ourselves feeling and those reactions that we are not allowing ourselves to express. In so doing, we'll be able to identify the reasons why we operate in the way that we do.

Want to learn more? Interested in becoming NLP certified? Learn more about our NLP Certification, Coaching, Time Line Therapy®, and Learn Hypnosis, and NLP training by visiting www.mindremappingacademy.com and www.drmaiysha.com.

Stay Informed
When you subscribe to the blog, we will send you an e-mail when there are new updates on the site so you wouldn't miss them.
Comments
No comments made yet. Be the first to submit a comment